This article describes which of SuperNova's features require an activate Internet connection, and which rules may be needed to allow these options if blocked by a firewall. This article also describes how to disable these features entirely.
Disable Features
IT Administrators may disable certain features of SuperNova so that they are not available for users. To do this:
Navigate to the SuperNova installation directory C:\Program Files (x86)\Dolphin\Snova___
Run the application "enterpriseconfig.exe".
On the "Features" page, check any items you wish to turn off: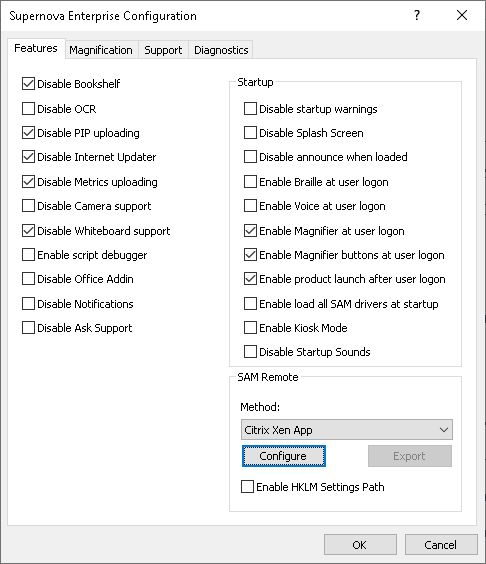 Features which will access the nerk are:
PIP Uploading – sends usage data to Dolphin
Internet Updates - Download product updates from Dolphin
Metrics uploading – send diagnostics information to Dolphin.
Whiteboard support – Allows students to connect to whiteboard using VNC.
Required Settings for Firewall
The following information may be of use to Network Admins who want to ensure one or more features will not be blocked by corporate filewalls.
PIP / Crash Feedback uses Windows BITS transfer system (ports 80 / 443) to talk to: pip.yourdolphin.com
Hotkey helper uses: hotkeys.yourdolphin.com (standard HTTP)