When SuperNova starts on a Hyper-V session, there is no magnification nor highlighting, and the mouse pointer may disappear.
Install Hyper-V Integration Services.
This would occur if the Microsoft Hyper-V Integration Services have not been installed. To install these:
Open "Hyper-V Manager"
Choose the virtual machine you want to update.
Choose "Connect"
Open the "Action" menu.
Choose "Insert Integration Services Setup Disk".
Inside the Guest virtual machine, choose the DVD drive with the installation files
RIGHT CLICK the DVD drive and choose "Install Hyper-V Integration Services".
The installation/upgrade of Hyper-V Integration Services will begin
Once complete, be sure to reboot the client / server.
Verify the version of Hyper-V Integration Services in the Hyper-V Manager VM Summary information
2. Adjust Enterprise Configuration Tool Settings
If you still do not have any magnification within the VM, run the Enterprise Configuration Tool located in:
C:\Program Files *x86(\Dolphin\Snova____\enterpriseconfig.exe
Now open the "Magnification" page: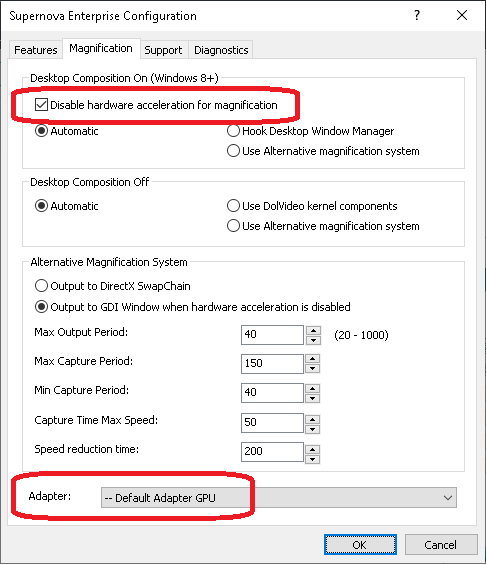 Under the "Desktop composition On" section, enable "Disable Hardware Acceleration for Magnification".
Under the "Adapter" section choose "Default GPU".
Now restart SuperNova.