The above message is displayed after launching SuperNova. When choosing "OK2, SuperNova closes.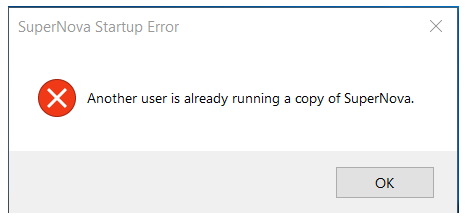 This message will only occur when SuperNova tries to launch twice at the same time. For example, if SuperNova is set to load automatically when Windows starts, then you attempt to launch SuperNova manually (e.g. by clicking the Desktop shortcut), this message will appear.
If you do not believe SuperNova is set to load automaticvally, do the following:
Open the SuperNova Control Panel.
Open the "General" menu.
Choose "Start-up Preferences".
Check if "Launch SuperNova after logon" is selected.