The above error message is displayed when SuperNova loads up. Upon choosing OK, SuperNova closes.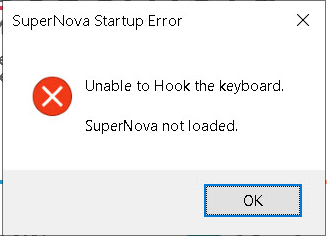 This may occur is any application is installed and running that calls the SetWindowsHookEx() function may cause this error. Known apps to cause this issue include "DataMask by AOL", but to try and isolate the cause, take the following steps:
Open the Windows Start menu.
Type: Task Manager and choose "Task Manager" from the search results.
When task Manager loads, choose the ""Startup" page (you may need to choose "More details" first if the "Startup" page doesn't show".
A list of all apps that are set to load automatically when Windows starts will be displayed. RIGHT CLICK on each in turn and choose "Disable" (apart from SuperNova). This will stop all programs from launching automatically.
Restart the PC.
The problem should now be resolved – to identify which application was the cause of the issue, enable each in turn and restart the Pc until the error returns.